In Estonia, it is possible to apply for the protection of trade marks under the Trade Marks Act that took effect on 1 May 2004 (the first Trade Marks Act entered into force in 1992). From 1 May 2004, the EU legal acts concerning trade marks are also valid in Estonia.
Since spring 2007, it has been possible to file trade mark applications through an electronic filing portal. The portal enables to fill in and send trade mark registration applications to the Estonian Patent Office and to look at the applications filed earlier. Anyone can fill in the form, but only the applicant (or a patent attorney representing him/her) can sign it. Estonian ID-card and its reader are required. 89% of Estonian applicants used the possibility of e-filing in 2020. Other documents relating to the examination can be filed electronically with a digital signature. For trade mark applications submitted from 1 January 2017, only electronic procedure is used.
Since older files were digitised in 2019 and applications for international registration can only be filed electronically from 2020, the whole trade mark procedure is now paperless.
There are four possibilities to obtain legal protection for a trade mark in Estonia:
by registering it in the register of trade marks and service marks by filing an application with the Estonian Patent Office;
by registering it with the International Bureau of the World Intellectual Property Organization (WIPO), requesting legal protection in Estonia;
by making a trade mark well known in Estonia;
by registering it as an European Union trade mark with the European Union Intellectual Property Office (EUIPO).
1,403 trade mark registration applications were filed in 2020 (1,351 applications in 2019). Estonian applicants filed 1,239 applications (1,172 in 2019). International trade mark registrations designating Estonia numbered 943 (1,284 in 2019). In total 2,346 trade marks were filed for legal protection (2,635 in 2019).
By the end of the year, 1,882,872 European Union trade marks were valid in Estonia (including 3,951 trade marks from Estonia), 25,821 registered national trade marks and 28,658 international trade marks with legal protection extended to Estonia.
Estonian applicants filed 31 international trade mark registration applications for forwarding to WIPO (38 in 2019). There were 62 countries among the countries designated for protection. The European Union was designated 18 times, Russia 14, USA and Byelorussia 12 and United Kingdom 8 times.
In 2020, Estonian applicants made up 52.9% of the total of trade mark applications. Among other states Russia was the most interested in gaining legal protection in Estonia. Applications and international registrations from Russia formed 8.1% of the total of applications, followed by China (4.8%), Germany (3.4%) and USA (3%).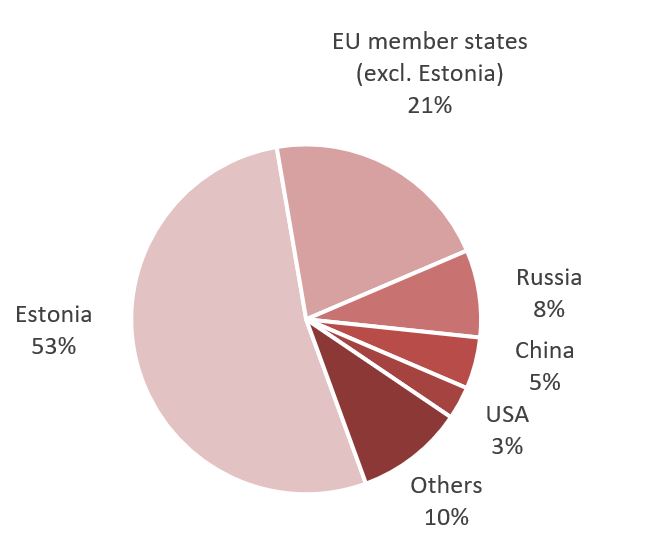 The most popular goods for which legal protection was applied in 2020 were electronic and computing apparatus (5.6%), pharmaceutical preparations (5.4%), foodstuffs (4.9%), and beverages (4%).
The most popular services were advertising, business management and office functions (10.8%), followed by education, training, entertainment, cultural and sports activities (7%), insurance, financial affairs and real estate affairs (4.2%), scientific and technological services (4.1%) and services for providing food and accommodation (4%).
For those who are interested, including the Customs Authorities, Police and Commercial Register, the Trade Marks Database is available on the Office's web page. This contains data about registered and pending trade marks, as well as international registrations designating Estonia. The database is updated every day, so the data is always up to date.
Following the amendments to the Trade Marks Act which entered into force on 1 April 2019, the Patent Office no longer examines the existence of earlier rights, but only the absolute circumstances that preclude the legal protection of trade marks as set out in Section 9 of the Trade Marks Act.
The average duration of the examination of trade mark applications and international registrations (if there are no deficiencies) was 3.7 months. The examination of national applications from filing an application until making the decision took approximately 3 months.
On 12 October 2020, the Patent Office started offering a new service – an accelerated procedure for trade mark applications. An application for an accelerated procedure with reduced data must comply with certain conditions which allow the registration decision to be made in a shorter period of time.
Trade marks are published in the Estonian Trade Mark Gazette twice – first, in Part I when the decision on trade mark registration has been made, and second, in Part III after the trade mark has been entered into the register of trade marks and service marks. International registrations are published for appeal in Part II of the Gazette.
Disputes concerning trade marks are resolved in the Industrial Property Board of Appeal, and in court. In 2020, 4 oppositions were granted in the Industrial Property Board of Appeal.